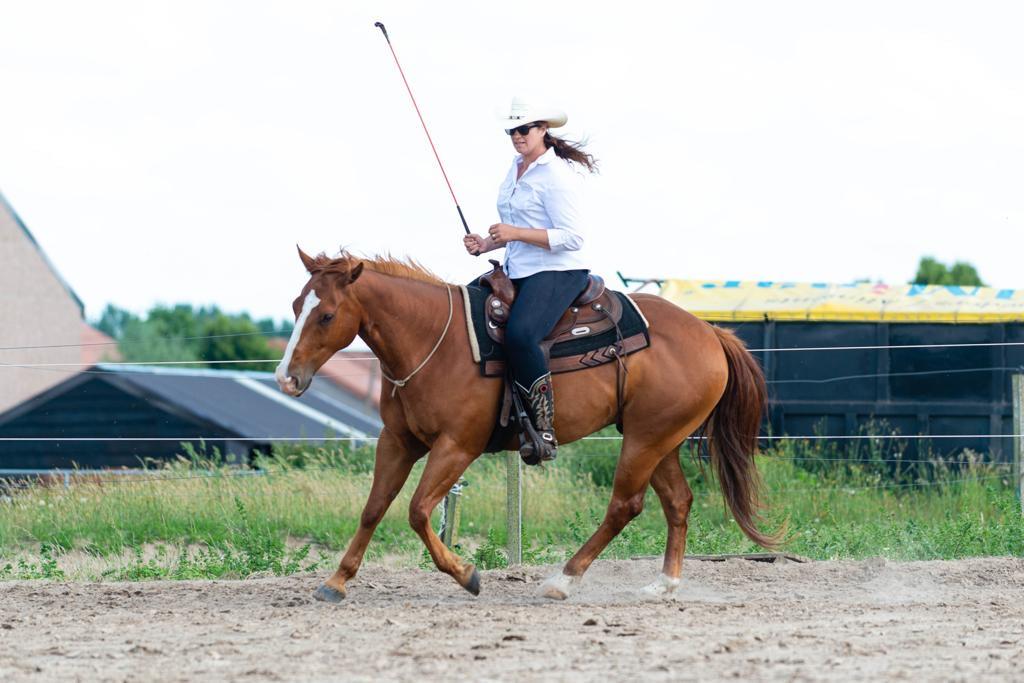 Ik ben geboren en getogen in een echte paardenfamilie als jongste in een gezin van vijf. Paarden (dravers) trainen en verzorgen was een dagelijks taak, het hoorde bij het leven. Net als eten, drinken en slapen, alles draaide rond de paarden bij de familie Lannoo-Martens, ook wel bekend door
de paardenvoeders
.
Ook al hadden we thuis veel paarden - allemaal dravers - toch bleef ik eigenlijk dromen van iets meer, iets anders,… Ik wou springen, crossen, galopperen, dressuurles volgen, en zo verder, en dit alles met een paard als echte kameraad. Maar daar dacht mijn vader anders over. Een paard dat bij ons op het erf kwam moest zijn boterham verdienen en was geen speelkameraad. Als ik een paard onder het zadel wou rijden in plaats van aangespannen was dat voor hem geen enkel probleem. Er stonden er genoeg, ik had maar te kiezen en uit te proberen. Paardrijden is niet meer of niet minder dan er gaan opzitten en er niet afvallen. Als we dan niet echt van thuis weg geraakten werd er gewoon eens met een schop op de grond geslagen, of begon er iemand op de garage poort te kloppen zodat aan het paard duidelijk werd gemaakt 'Gelieve hier weg te gaan', en WEG waren we.
Natuurlijk waren er ook soms paarden die niet voldeden als koerspaard: te zot, te traag, te koppig, enz… Wanneer ik dat zag aankomen zocht ik allerlei argumenten om het paard te mogen houden. Ik leerde die dan springen (daarvoor had ik nodig 2 pakken stro en een balk), ging er mee op vriendenbezoek, leerde ze galopperen langs het kanaal of in een geploegd veld. Met letterlijk veel vallen en opstaan hebben die paarden mij veel geleerd, want rijles kregen wij niet. Aangezien mijn vader veel op de baan was, kwam hij vaak mensen tegen die een braaf paard zochten, liefst niet te duur. Dan vertelde hij over mij en wat ik allemaal deed met zijn ex-koerspaard… en daar ging mijn paard. Ontelbare keren ben ik met een ander afgedankt koerspaard opnieuw begonnen, en al die paarden ben ik nu ontzettend dankbaar. Zij hebben er mede voor gezorgd dat ik sta waar ik nu ben.
Alles veranderde pas echt toen ik van mijn vriend - nu mijn man - een warmbloedpaard cadeau kreeg als verlovingsgeschenk: TWIST! Een 3-jarige ruin en zadelmak geboren (hahaha). Nu ging ik voor het eerst in mijn leven eens echt mijn droom waarmaken: les volgen, dressuur rijden, trektochten maken en noem maar op. Ik had grootse plannen voor ons twee. Na een paar maanden kwamen er toch hier en daar wat problemen opduiken. Vooral opzadelen vond hij maar niets. Hij begon wat verzet op het bit te geven, en stormde ooit met mijn broer over een golfbreker in volle galop.
Toen Kim Moeyersoms, een goede vriendin van me, de naam Parelli liet vallen was mijn interesse gewekt. En na een demonstratie in Parijs waar we Pat Parelli, Linda Parelli en een aantal van hun studenten aan het werk zagen, was ik meteen verkocht. Nu zijn we jaren verder en geniet ik elke dag meer van mijn paarden. Meer dan ooit tevoren. Ondertussen heb ik al veel mensen geholpen met trailerladen, een paar zeer uitdagende paarden herstart en zadelmak gemaakt voor zowel draf-, ren- als springsport, enz. Vroeger kon ik bepaalde problemen oplossen met een paard. Maar als iemand me vroeg hoe ik het dan uiteindelijk had gedaan kon ik daar moeilijk antwoord op geven. Door het Parelli-programma te volgen kan ik nu uitleggen WAAROM de dingen gaan zoals ze gaan en vind ik het een eer om dit nu aan anderen te kunnen leren.